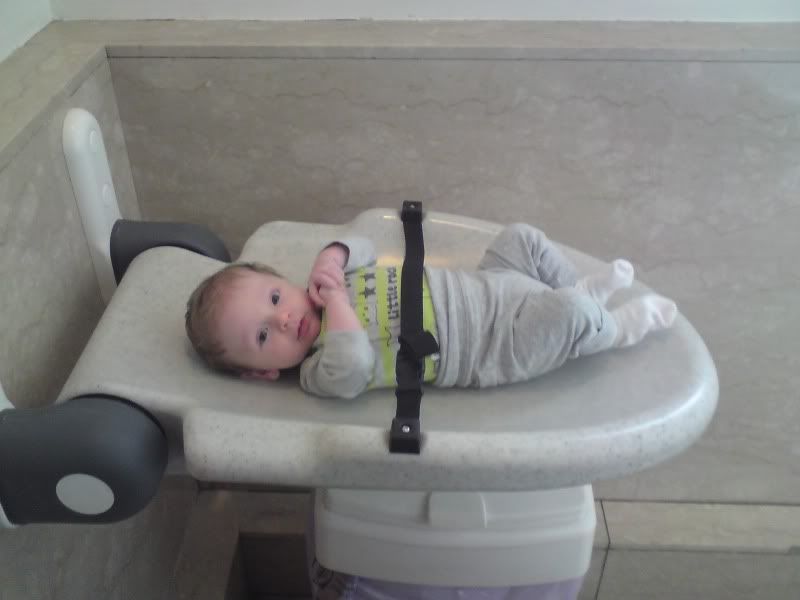 When I've popped into work with Alexander thus far, I've changed him in my office (sorry colleagues!).
It was because of this that I only realised a couple of weeks ago that the
Glasgow City Chambers complex
had no baby changing facilities whatsoever. None!
I was pretty surprised - the City Chambers is a sizeable building, with public tours twice a day and a range of events held in the Banqueting Hall and Satinwood Suite. Mothers and babies often visit to have documents witnessed in the Councillor's corridor, or to visit their elected representatives. I immediately took the matter up with the City Chambers duty manager, who admitted that it was probably something they should consider.
The Duty Manager quickly sourced a fold-down changing table, and I can confirm it is now installed in the disabled toilet - located on the ground floor entrance hall, next to the front doors. As you can see, Alexander approves!
I also asked for a chair to be placed in the 'outer room' of the toilet so that those who wish to breastfeed more discreetly can do so - although if people prefer to use the nice sofas in the lobby, that would also be absolutely fine!
If there are any other Council facilities that aren't up to scratch, please let me know and I will pursue the matter with officials.