I had to laugh when I saw
this daft wee
article in the Evening Times. To get to Westminster (on what
appears to be a day trip
) Willie
Bain
got the bus to airport, thereby proving that a perfectly adequate service already exists and
Garl
isn't strictly necessary.
I live in Glasgow North East, in
Dennistoun
near Alexandra Parade Station which is on the
Springburn
branch line. If
Garl
existed and I wanted to get to the airport, I'd have to haul my suitcase down the street, down the stairs to the platform, up the stairs or into the lift at Queen Street, wait for the wee connecting bus to wind it's way down to Central, or haul my case down Buchanan Street (probably in the rain, always seems to happen that way!). Makes me feel tired just thinking of it.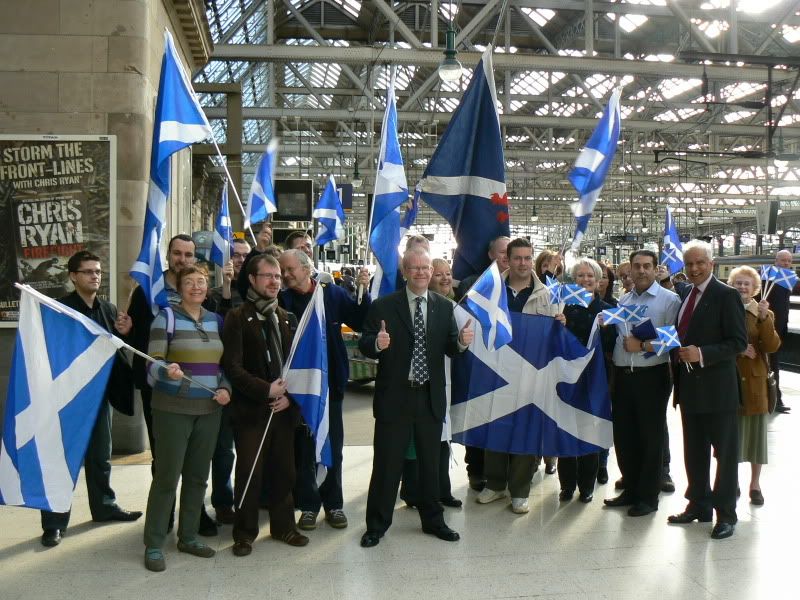 By contrast, the
award winning
airport bus
service stops right outside Queen Street Station. Very handy.
It's also an interesting point to note (picked up by a Herald
letter writer
) that plane travel over short distances is one of most environmentally damaging ways to travel. John Mason travels to London, that first time and since, by train allowing him to get work done on the way and being far more
eco
-friendly.
P.S. Mr
Bain
seemed very lonely waiting for the bus with his wee rucksack (a contrast to John's rousing send-off!), but it
seems he's found
some fine upstanding friends to see him right in London. Sure he'll fit in just like the rest of them...