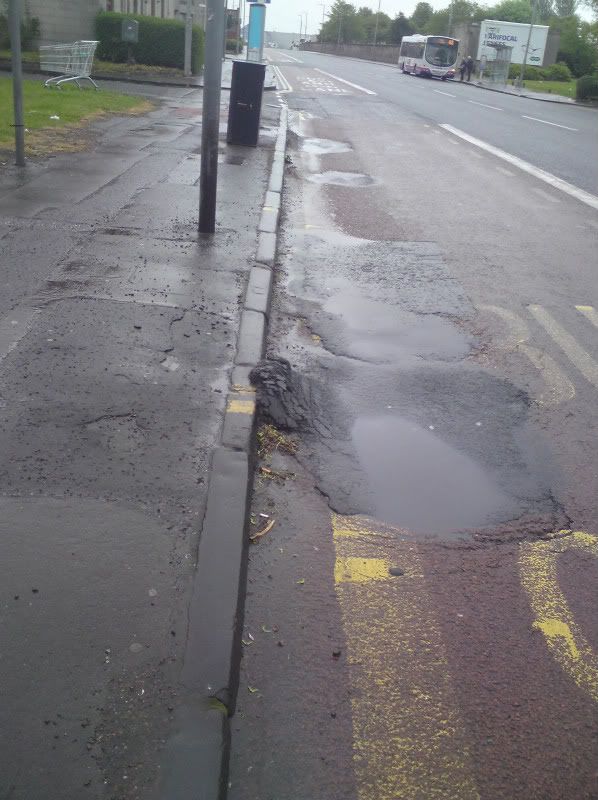 If you use the road, by bus, car or bike, potholes are a serious hazard. They damage vehicles, cause accidents, and make for a very uncomfortable journey. Bus lanes are particularly bad, almost bouncing me off my seat at times!
I've been trying to note down potholes where I see them and report them to Land and Environmental Services for repair.
There have been a few good patching jobs in my ward after I've reported a problem, and I'm hoping to do as much as I can to improve the road surface. I've just reported this bumpy bus stop on the Gallowgate at Coalhill near Parkhead Forge, and will be keeping an eye on it over the coming weeks.
If you have any complaints or particular areas you'd like to report, contact me at the details on the sidebar or get in touch with the Council on the
RALF hotline
.
At the most recent
Area Committee
, we considered a report on scheduled road repairs. Over the course of the coming year in additional to general repairs, the following roads will be resurfaced or recoated:
Dunn Street at Dalmarnock Road junction Resurfacing £16.9k
Plant Street (full length) Resurfacing £20k
Nuneaton Street (full length) Resurfacing £25k
Macduff Place (full length) Nimpactocote £3k
Canmore Street (Macduff Place to Canmore Place) Nimpactocote £10.1k
Canmore Place (southern carriageway - full length) Nimpactocote £4.1k
Bell Street (Hunter St to McFarlane Street) Nimpactocote £7.1k
The following pavements will also be redone:
London Road (north footway- Charlotte St to Ross St) Resurfacing £14.9k
Bellgrove Street (west footway - from Duke St south to railway bridge at Bellgrove Station) Resurfacing £18.2k
Dunn Street (south footway at Old Dalmarnock Road) Resurfacing £12.1k
Greendyke Street (west footway southwards from London Road) Resurfacing £10.4k
Gallowgate (south footway - along frontage of St Mungo Academy) Resurfacing £11k
London Road (north footway from Nuneaton St to Kerrydale St) Resurfacing £16k
London Road (south footway from Binnie Place to Monteith Place) Resurfacing £20k
Dalmarnock Road (north footway from Springfield Rd to Summerfield St) Resurfacing £11k