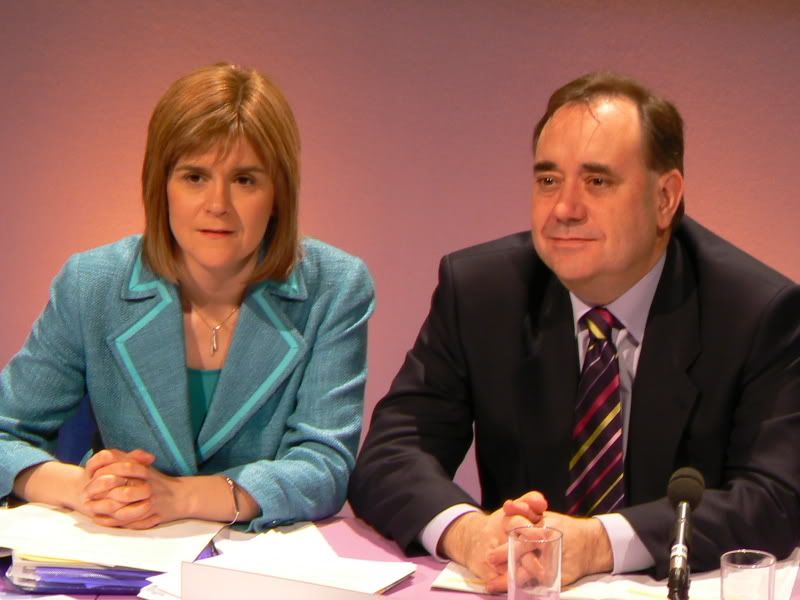 SNP Conference was good. It was very very good. Policies outlined, inspirational speeches made, funds raised, spirits lifted for the final weeks to come. The
YSI
gained some keen new members and I got to catch up with folk I hadn't seen for a while.
More importantly, SNP spokespeople outlined the policies for government. Proper, sensible, forward thinking plans that will work and will improve people's lives.
The plans by the other parties don't compare - just this morning,
in the Scotsman
McConnell criticised the SNP's plans. His bright new shiny idea? Something different, inspired? An education bill.
"He (McConnell) simply stated what Labour would do in its first 100 days in office: introduce an education bill to improve the chances of children across Scotland.

He stressed the contrast: claiming the SNP would spend its first 100 days sparking disputes with Westminster while Labour would spend its first 100 days putting together a package for Scotland's children. Mr McConnell said this would take the form of a bill to create skills academies to provide more vocational training and make sure all 16-year-olds were given full-time formal education until the age of 18, to best suit their needs."
Aside from the fact that secondary teachers like my mum feel that "skills academies" are insulting and most likely unworkable, McConnell has had some eight years to come up with this bright idea. He used to be the Education Minister! If this idea is so wonderful and important now, why hasn't he introduced it already?!
This statement, however, was not my favourite part of the article. That would be when McConnell claimed that
"the SNP would get into rows for the sake of independence, not the good of Scotland"

Hmmm, I think he misses the point. Independence
is for
the good of Scotland, and everyone who lives here. For the sake of Scotland, we want independence!