I was moved to post on this by Yousuf's rather
one-sided political polemic on tennis courts
. Of course it would be nice to have loads of local facilities available at low or no cost. The reality is that there is a cost in providing services, and most likely this cost would be met by Councils, not the Scottish Government. I'm not going to defend any Council's record, but a bit

of understanding that "free to use" does not mean "cost-free" would be helpful.
On a slightly more political slant, I would point out that Labour have an abysmal record in selling off playing fields and pitches across the country. In Glasgow, the cost of hiring facilities in PFI schools is prohibitive to many community groups. The need for form filling and applications for funding also puts off informal users. There are pitches all over the city in disrepair due to lack of maintence over the years.
I hate to go to a
in my day
type rant, but I spent huge chunks of my summer climbing trees,
playing with friends, exploring, and injuring myself in new and creative ways (concussion and hospitalisation from falling from the monkey bars being a particular high point). There was no tennis, no swimming pool in my town (it got built mid-high school), and where I lived was miles away from the fairly limited sports centre the town had. It sounds archaic, but we made our own fun.
The spirit of this seems to be alive and well in the children in my street who, after finding chalk inadequate, have gotten hold of some masking tape and lined themselves a tennis court. I'm very impressed! It's gotten a wee bit squint since the bin lorry ran over it this morning, but you get the point.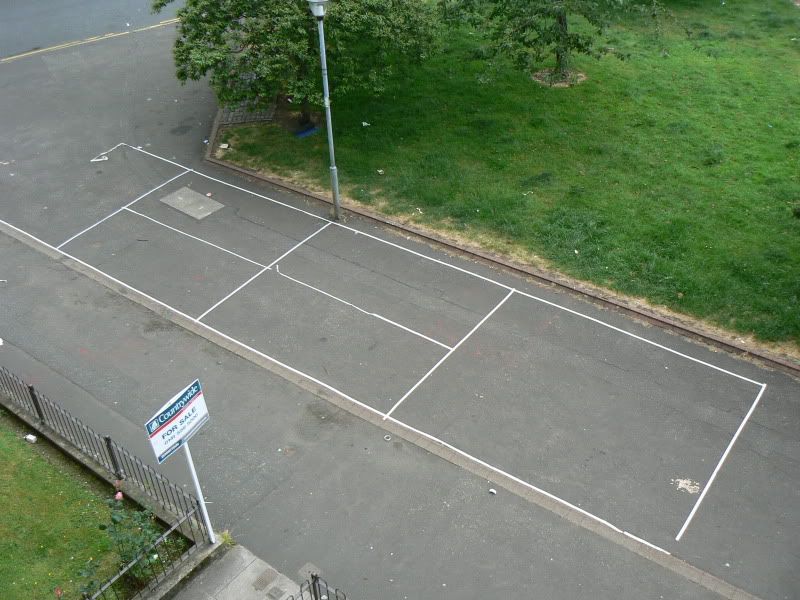 Grampa Simpson style rant over, there are loads of organised activities going on in the East End of Glasgow, provided by a number of organisations funded in a multitude of ways. The
East End Youth Network
has a programme of events, with all manner of sports and arts activities for young people. The organisations involved have worked really hard to put together programmes of events, so there's always something to do! I wish I was still young enough to take part, but I hope as many young people as possible take up the opportunities open to them this summer.