As regular readers of the blog will know, I've been supporting a lot of the work done by Strathclyde Fire and Rescue. While I was visiting Calton Fire Station to see Firereach in action, I offered up my flat as a means of promoting
Home Fire Safety Visits
,
an offer which was met very enthusiastically by the new Area Commander Frank Waters and Stephen McKee, Community Safety Co-ordinator for North East Glasgow.
White Watch came to my flat (as they do with any other Home Fire Safety Visit), along with a journalist from the News of the World and a photographer. The team ran through the Home Fire Safety Visit as they would with any member of the public, checking each room for fire risks such as overloaded plug sockets, candles, and other flammable items.
I live in an older tenement building and a lot of the plug sockets are single ones, so I do use a lot of extension cords. I was reminded that they can overheat, particularly when devices like hair straighteners and hairdryers are plugged into the same one. I learned that the old style plug adaptors are more hazardous than the new bar ones, and I now switch all adaptors off when they're not in use.

A significant risk factor is of course smoking – cigarettes left burning when people nod off in their armchairs or in bed can quickly cause a fire to break out. I don't smoke, or allow people to smoke in my flat, so that wasn't directly an issue for me. It could be an issue for me though if it happens to one of my neighbours. I live in a close with ten other households, and I'm sure a few of them smoke. The fire fighters told me a recent fire where the person had fallen asleep, but the neighbours heard the smoke alarm going off, and called 999. If they hadn't, their neighbour could have died, and the fire could easily have spread to other houses in the street.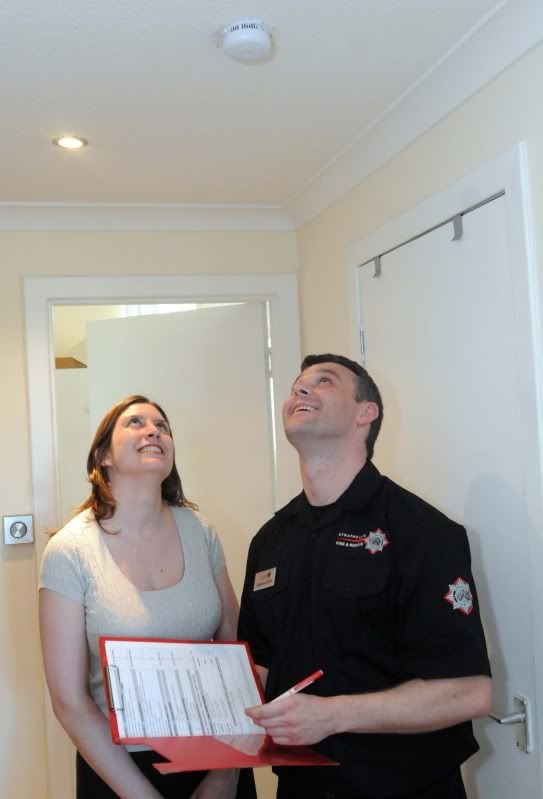 I was shocked to find that my own smoke detector, which had been in the flat since I moved in two years ago, was found to be faulty. The fire fighter who checked it reckoned it was a loose connection. As part of the service, Strathclyde Fire and Rescue will fit a smoke alarm for free. It has a ten-year lifespan, and is smaller and neater than most I've seen. You can also press a button to turn off the beeper if it goes off by accident (I set it off soon after while cooking bacon!).

I feel a good deal safer knowing that I now have a properly installed, functioning, reliable smoke alarm, and I would recommend the Home Fire Safety visit to anyone. The fire fighters carrying out the visit encourage you also to make an escape plan, to think about what you would do in a fire, and to make your own home safer. They pointed out things I wouldn't have thought of, like the importance of having well-fitted doors to prevent the spread of smoke. It's also worth recommending to family and friends – we could all be victims of fire, and it's clear that the best early warning is a smoke detector.

Book your Home Fire Safety Visit today. Call 0800 0731 999, text "Check" to 61611 on your mobile phone or follow the link to fill in the request form.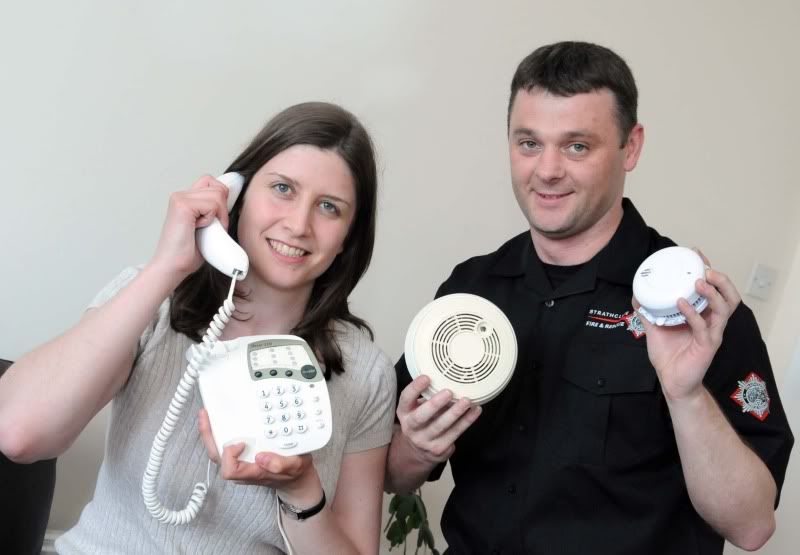 Photos by Carol McCabe Photography
35 Summertown Road
Glasgow
G51 2QA
Web: www.cmcpictures.co.uk